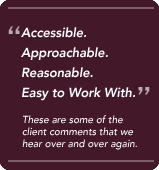 When the firm was founded in 1992, our goal was to provide a full range of legal services to locally-owned, entrepreneurial businesses led by people with a passion for success—in their professional as well as in their personal lives.

We believe that one of our strengths as a business law firm is how much we have in common with our clients: we are entrepreneurial, dedicated to our communities, and each of us has a similar passion for success—professionally and personally.

Our roots are in real estate law. However, today we have a depth of expertise and experience in a broad range of transactional services from the complexities of lease and contract negotiations to structuring employer-employee issues to navigating commercial litigation.